Radio Frequency Non-Surgical Skin Tightening Treatments
Skin tightening by radiofrequency (RF)Is a non surgical procedure that tightens the slack skin and makes the fine lines and wrinkles to look softer, giving the face a younger texture and sight.
How does the skin tightening treatment work?
The therapy is based on high frequency radiowaves (RF) that heat the dermis and the collagen fibres of skin face in order to be contracted and the skin be more tight. Additionally, heating activate the fibroblasts to produce more new collagen and elastin fibres giving by this way a long duration skin tightening.
The spectacular results (skin tightening, wrinkle reduction) gradually begin to appear within 2 months and are completed in 6 months. Results usually last till two years. The sessions are performed throughout the year, even during summer, as there is no photosensitivity problem. All ages and all skin types are suitable for this treatment.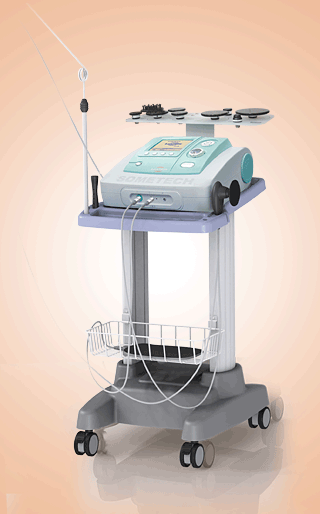 Our treatments employ CET, Bipolar and RET radio frequency technologies to tighten both the very superficial layers of the skin and skin's sub-dermal layer, which in other cases requires two separate procedures.
Is There A Recovery Time After The Radio Frequency Skin Tightening Procedure?
Radio frequency skin tightening is mainly popular due to its high efficacy and no recovery time. Your skin may remain slightly red for 30 to 60 minutes after the procedure. It may also feel somewhat dry for 24 to 48 hours after the treatment, but clients may return to their normal daily routine immediately.
On What Parts Of My Body Will I Benefit Most From Radio Frequency Skin Tightening?

Radio Frequency (RF) technology can be used for skin tightening and lifting effects on any body areas including face, upper arms, abdomen, back, thighs and buttocks. The most common treatments of the face are treatments for aging and lax skin on the chin, neck, underneath and above the eyes, and for saggy brow lines.
Contraindications to RF skin tightening ?
The therapy must be avoided to persons who suffer from collagen diseases, patients with pacemaker or defibrillator and malignant history.